I'M A TELLIN' U LONGHORN
RANCH
Steers for Sale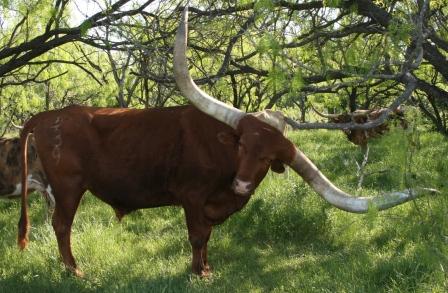 SE GABON
A ton of horn and bases!!!!
He's a unique, long horned steer.
One horn is outgrowing the other, and if you look closely,
You can see how is head has adapted so he can eat and see.
Loves to be scratched.
He was born on 1/2/09.
He's got have a whole lot of horn!
SE ECHO OF UNO
DOB: 3/17/13
JBM BOOMERO UNO X SH ECHO OF TUPELO
This guy has a great pedigree.
It's hard to sell a white bull, so we made him a steer.
He already has awesome horns that are sure to grow, and grow and grow….
Horns: 51.25" tip to tip; 54.75" total with 12" bases on 12/4/14 - at 21 months old!
BRINDLE ATLAS
DOB: 7/28/18
Good looking brindle steer.
Click here to go to I'm A Tellin' U Home Page